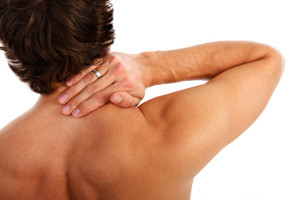 Neck pain is one of the most common conditions affecting Americans.  In fact, it is reported to be the number three cause of chronic pain in the U.S., affecting more than ¼ of Americans.  So, for every 1 person with neck pain, there are approximately 3 without, which begs the question: Why?  Is it aging?  Is it lifestyle?
The neck can be a very vulnerable part of the body.  After all, it carries the weight of the heads, which can range from 10 to 12 pounds.  A neck can be injured in car accidents, sports traumas, and even by spending too much time buried in our mobile devices texting.
To learn more about the connection between head and neck injuries and chronic neck pain download our complimentary e-book by clicking the image below.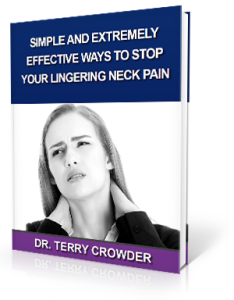 A recent article describes a surgical procedure that looks towards the nerves as the source of neck pain.  During this surgery, patients are partially awake while the doctor touches different nerves in the neck trying to locate the source of the pain so that it can be addressed.  While those doctors are on the right track thinking that nerves can be the source of neck pain, a natural, more conservative option is available and achieves results without having to go under the knife.
In McKinney, TX, neck pain specialist Dr. Terry Crowder's goal is to correct the cause of his patient's neck pain naturally.  Dr. Crowder focuses specifically on the top two vertebrae in the neck, since their unique shape and design can cause them to misalign easier than the other bones of the spine.  A misalignment in this area is frequently the culprit of chronic neck pain, and it must be corrected in order to start on the road to recovery.  Dr. Crowder's adjustments are gentle, specific, and given only when necessary to ensure that the maximum amount of healing can occur.
References
http://www.wndu.com/home/headlines/Neck-pain-caused–338052422.html
To schedule a complimentary consultation with Dr. Crowder call our McKinney office at 972-562-0674. You can also click the button below.